ASU Cares: San Diego Chapter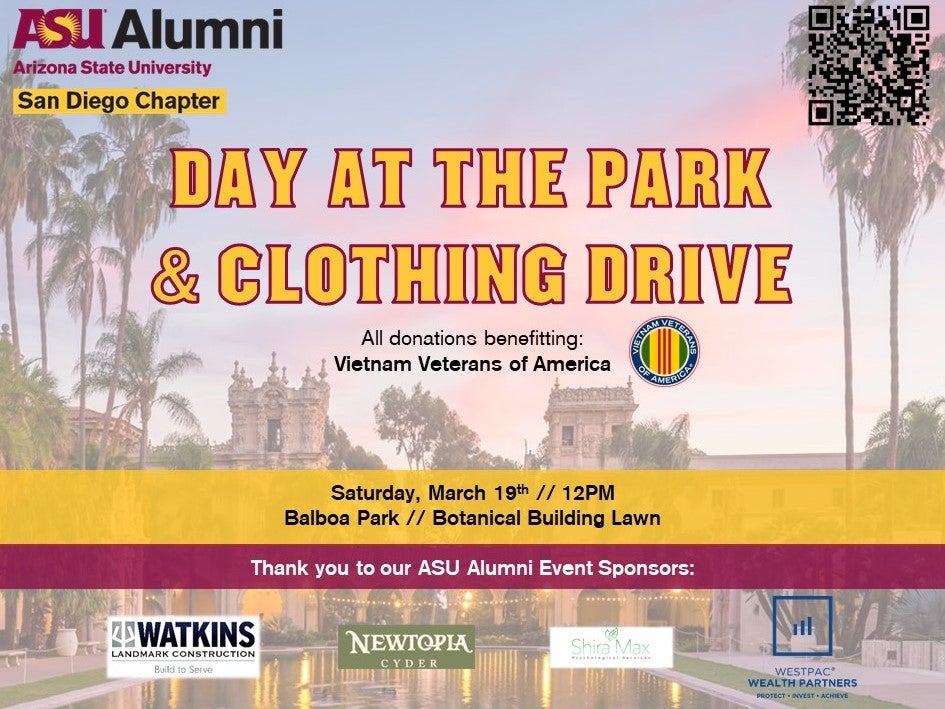 Come join fellow San Diego Sun Devils as we gather for our ASU Cares Day at the Park and Clothing Drive!
As a part of ASU Cares, we will be encouraging all attendees to get a head start on their spring cleaning and bring any lightly used clothing to be donated to charity. All donations will benefit the Vietnam Veterans of America.
Our set up spot at Balboa Park is at the Botanical Building Lawn. More details to follow to ensure a smooth event day!
All attendees who donate clothing will receive complimentary food and beverage. Plus, all 21+ attendees can drink alcohol at the park from noon–8 p.m.
Items to consider donating:
Clothing of all types and sizes (men's, ladies, children's, babies)
Clothing accessories
Shoes (all kinds)
Baby items
House and glassware
Books, toys, bikes
Stereos, radios, portable TVs
All bedding, draperies, curtains
Kitchenware
Small furniture and rugs
Small appliances
Tools (all kinds)
Jewelry and cosmetics
Almost anything!
Jason Heckendorn
sandiegosundevils@gmail.com
-
Balboa Park - Botanical Garden Lawn