Fifth Annual Prison Education Conference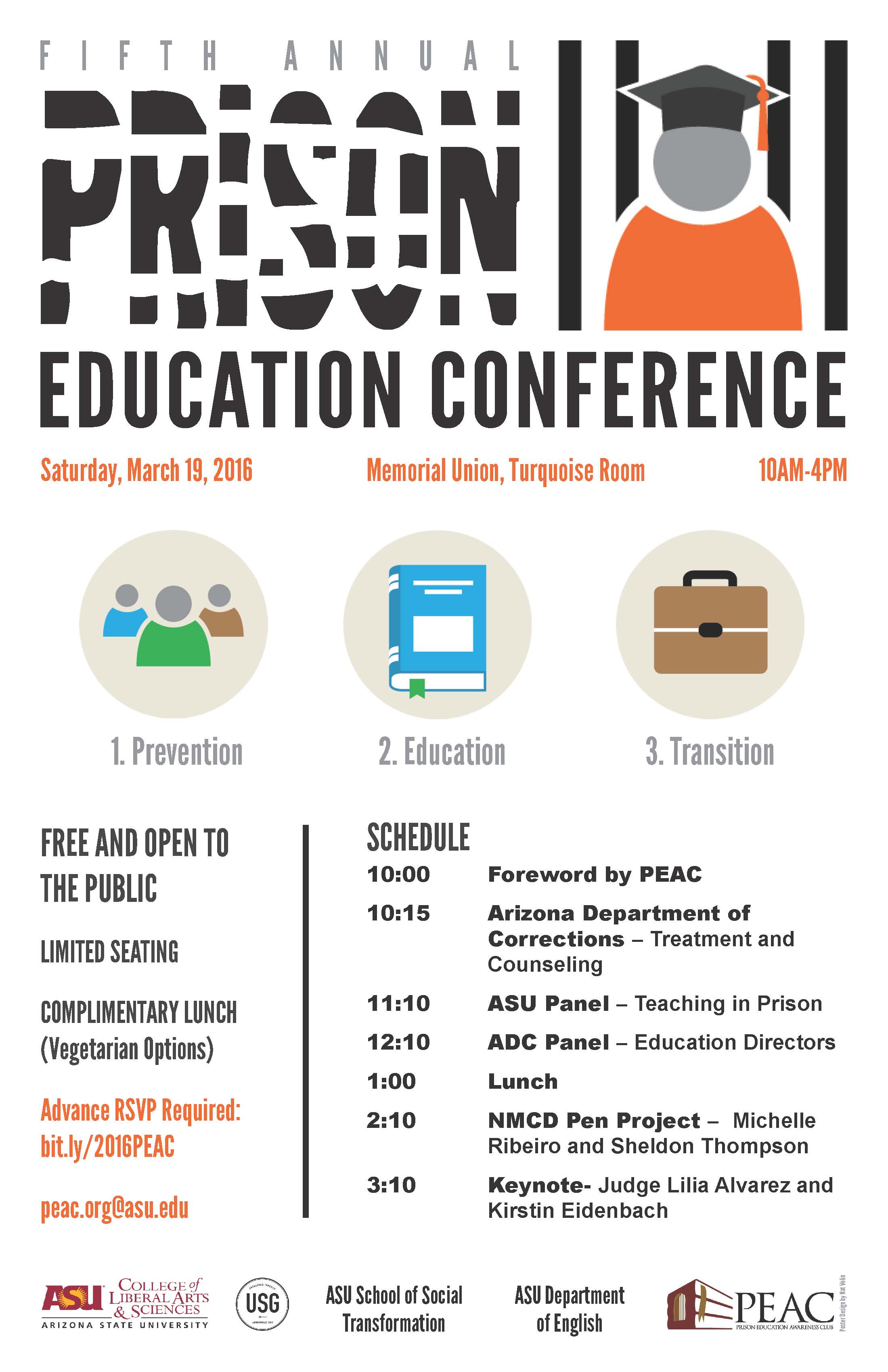 Arizona State University's 5th Annual Prison Education Conference is hosted by the Prison Education Awareness Club (PEAC) and the Department of English.
The conference highlights prison education programs as part of the American landscape. This year's event will focus primarily on prevention, education, juvenile justice, and transition both into and out of the prison system. Panels include members from the Arizona Department of Corrections Educational, Treatment, and Counseling services, as wells as prison educators from the New Mexico Corrections Department and ASU.
Michelle Ribeiro, recently retired from the New Mexico Corrections Department, will speak on the creation of the Pen Project – a class that allows maximum security and other incarcerated writers to receive feedback from ASU interns. Sheldon Thompson, a Pen Project participant who, on his release, was accepted on scholarship to the Institute of American Indian Arts, will speak of his educational experiences (both in and out of prison) and also share some of his creative work.\
The keynote speakers, Judge Lilia Alvarez and Kirstin Eidenbach, will conclude with a discussion about deterring juveniles from entering the system. Judge Alvarez is the presiding judge for the Guadalupe Municipal Court and also leads a 'teen court' in Guadalupe. Kirstin Eidenbach is an admired attorney who focuses on prisoner's rights issues.
The conference is free and open to the public, and includes a complimentary lunch (with vegetarian options). Registration begins at 9:30 a.m.
Prison Education Awareness Club
peac.org@asu.edu
http://bit.ly/2016PEAC
-
Memorial Union Turquoise Room, Tempe campus