Frankenstein at 200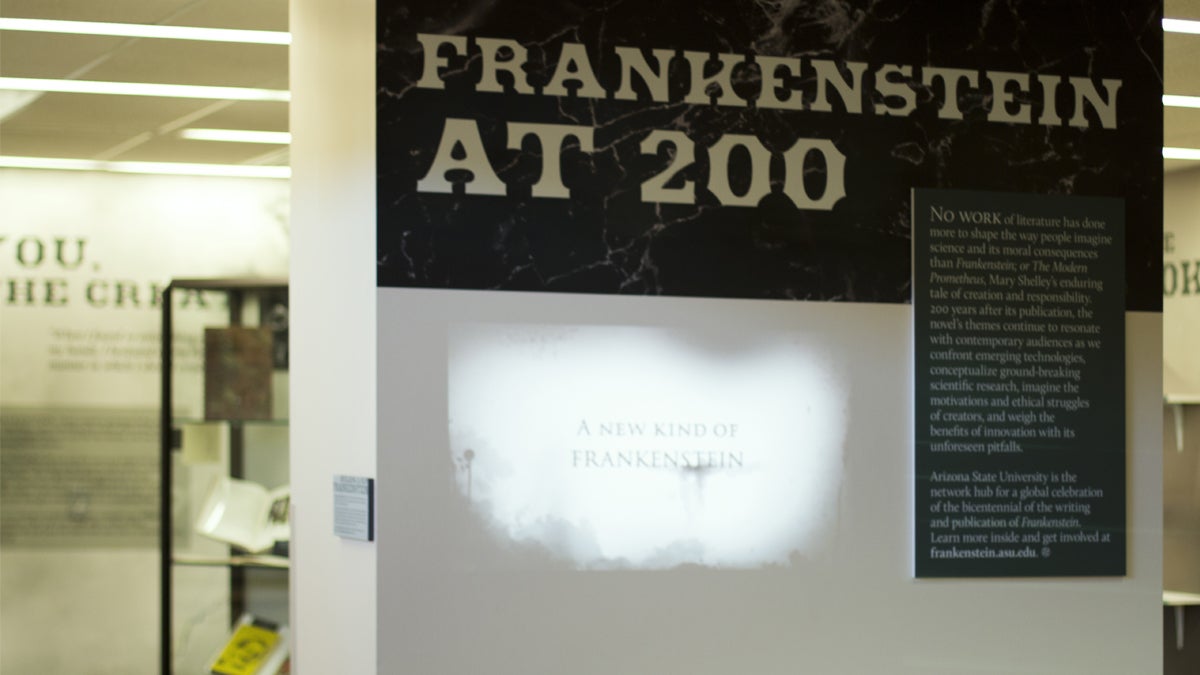 Mary Shelley's Frankenstein is rapidly approaching its 200th anniversary, but its themes continue to resonate in our technological age and spawn new, complex questions about the nature of life, our role as creators, and our responsibilities to the things we bring into the world. Now, Arizona State University Libraries, in partnership with ASU's Frankenstein Bicentennial Project, will present an interdisciplinary, mixed-media exhibition that grapples with the provocative ideas put forth in Shelley's novel. Featuring original and art  by ASU faculty and students,  interactive collection pieces, and compelling reflection questions, Frankenstein at 200 demonstrates the power of Mary Shelley's original vision, and contextualizes a centuries-oldstory for contemporary audiences.
Two hundred years after Mary Shelley imagined the story that would become "Frankenstein," ASU Libraries will exhibit an interdisciplinary installation that contextualizes the conditions of the original tale while exploring it's continued importance in our technological age. Featuring  work by ASU faculty and students, this exhibition includes a variety of physical and digital artifacts, original art projects and interactive elements that examine "Frankenstein's" colossal scientific, technological, cultural and social impacts.
About the Frankenstein Bicentennial Project: Launched by Drs. David Guston and Ed Finn in 2013, the Frankenstein Bicentennial Project, is a global celebration of the bicentennial of the writing and publication of Mary Shelley's Frankenstein, from 2016-2018. The project uses Frankenstein as a lens to examine the complex relationships between science, technology, ethics, and society. Arizona State University will act as a global hub for a vast array of activities at a wide range of venues, including film festivals, scientific demonstrations, writing and artistic competitions, museum exhibits, scholarly workshops, new books, special issues of magazines and journals, and other cross-platform media experiences. To learn more visit frankenstein.asu.edu and follow @FrankensteinASU on Twitter.
Bob Beard
Center for Science and the Imagination
602-496-6673
Bob.Beard@asu.edu
http://frankenstein.asu.edu
- - - - - - - - - - - - - - - - - - - - - - - - - - - - - - - - - - - - - - - - - - - - - - - - - - - - - - - - - - - - - - - - - - - - - - - - - - - - - - - - - - - - - - - - - - - - - - - - - - - - - - - - - -
Hayden Library, Entrance/Concourse Level Exhibit Space, Tempe campus