Global Asia Lecture Series: Myanmar's Revolutionary Situation & Political Theory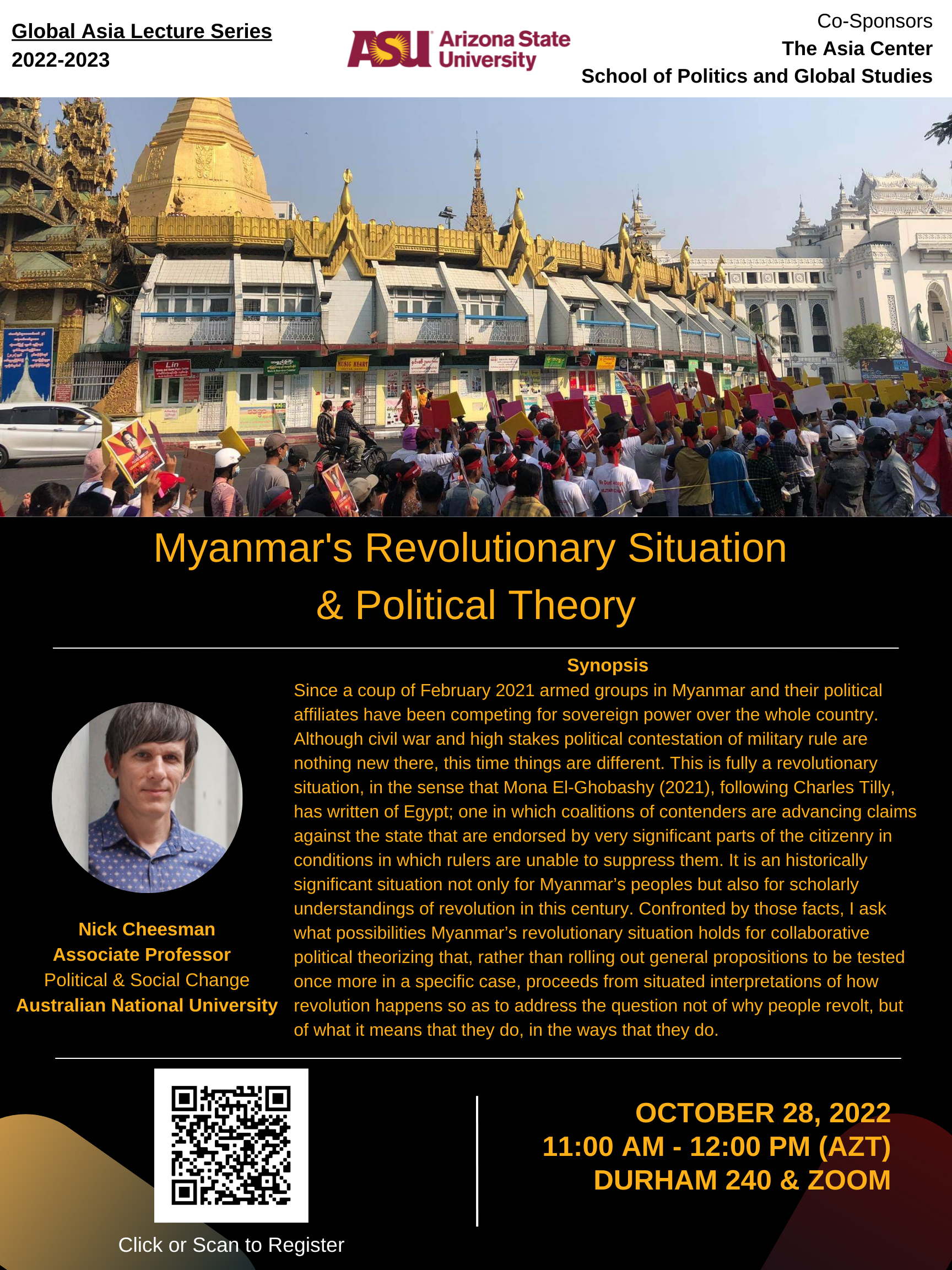 The Asia Center at ASU would like to invite you to join our third lecture in the Global Asia Lecture Series. As part of ASU's commitment to global engagement, sustainability and future-oriented knowledge and research, the Asia has organized a series of virtual lectures for the 2022–23 academic year on the theme of "Global Asia in a Multipolar World." This virtual lecture series highlights research from prominent scholars in an array of disciplines in the humanities, social sciences and beyond, broadly centered on Inter-Asian networks and flows of ideas, peoples and texts across national and linguistic borders. 
This lecture will be provided by Nick Cheesman, an associate professor of political and social change at Australian National University. For more information. visit us at AsianStudies.asu.edu.
Synopsis
Since the coup of February 2021, armed groups in Myanmar and their political affiliates have been competing for sovereign power over the whole country. Although civil war and high stakes political contestation of military rule are nothing new there, this time things are different. This is fully a revolutionary situation, in the sense that Mona El-Ghobashy (2021), following Charles Tilly, has written of Egypt; one in which coalitions of contenders are advancing claims against the state that are endorsed by very significant parts of the citizenry in conditions in which rulers are unable to suppress them. It is an historically significant situation not only for Myanmar's peoples but also for scholarly understandings of revolution in this century. Confronted by those facts, I ask what possibilities Myanmar's revolutionary situation holds for collaborative political theorizing that, rather than rolling out general propositions to be tested once more in a specific case, proceeds from situated interpretations of how revolution happens so as to address the question not of why people revolt, but of what it means that they do, in the ways that they do. 
Food will be provided to those who RSVP. 
Chan Lwin
SHPRS
480-727-0968
clwin@asu.edu
htto://asianstudies.asu.edu