Mindfulness in the Park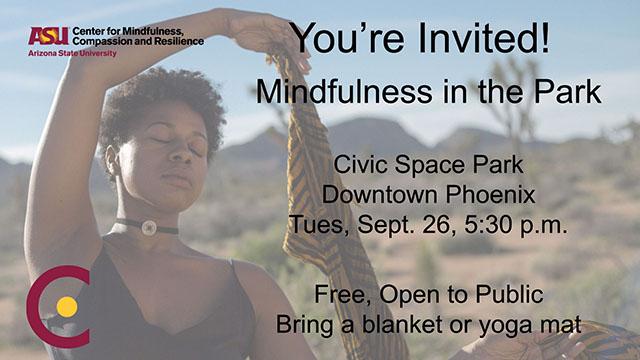 Arizona State University's Center for Mindfulness, Compassion and Resilience is hosting a "Mindfulness in the Park" event on Tuesday, Sept. 26 in Civic Space Park. The event is free and open to the public.
The purpose of the gathering is to engage students, faculty, staff and the community in mindfulness. It's a practice which sharpens the ability to focus and remember who we are at our essence, empowering us to move through daily life from a more genuine and effective manner.
Participants will be guided through activities such as meditation, qi-gong, tai chi and yoga.
Anyone interested in attending should bring a blanket or yoga mat.


Schedule of events:
5:30–5:45 p.m. 
Intro and meditation
5:45–6 p.m.
Yoga
6–6:15 p.m.
Tai Chi 
6:15–6:30 p.m.
Qi-Gong
6:30–6:45 p.m.
Closing meditation
Side activities include: Rei Ki, Feldenkrais and inspirational painting
Nika Gueci, Executive Director
Center for Mindfulness, Compassion and Resilience
Nika@asu.edu
https://mindfulnesscenter.asu.edu/