Naked and The Nude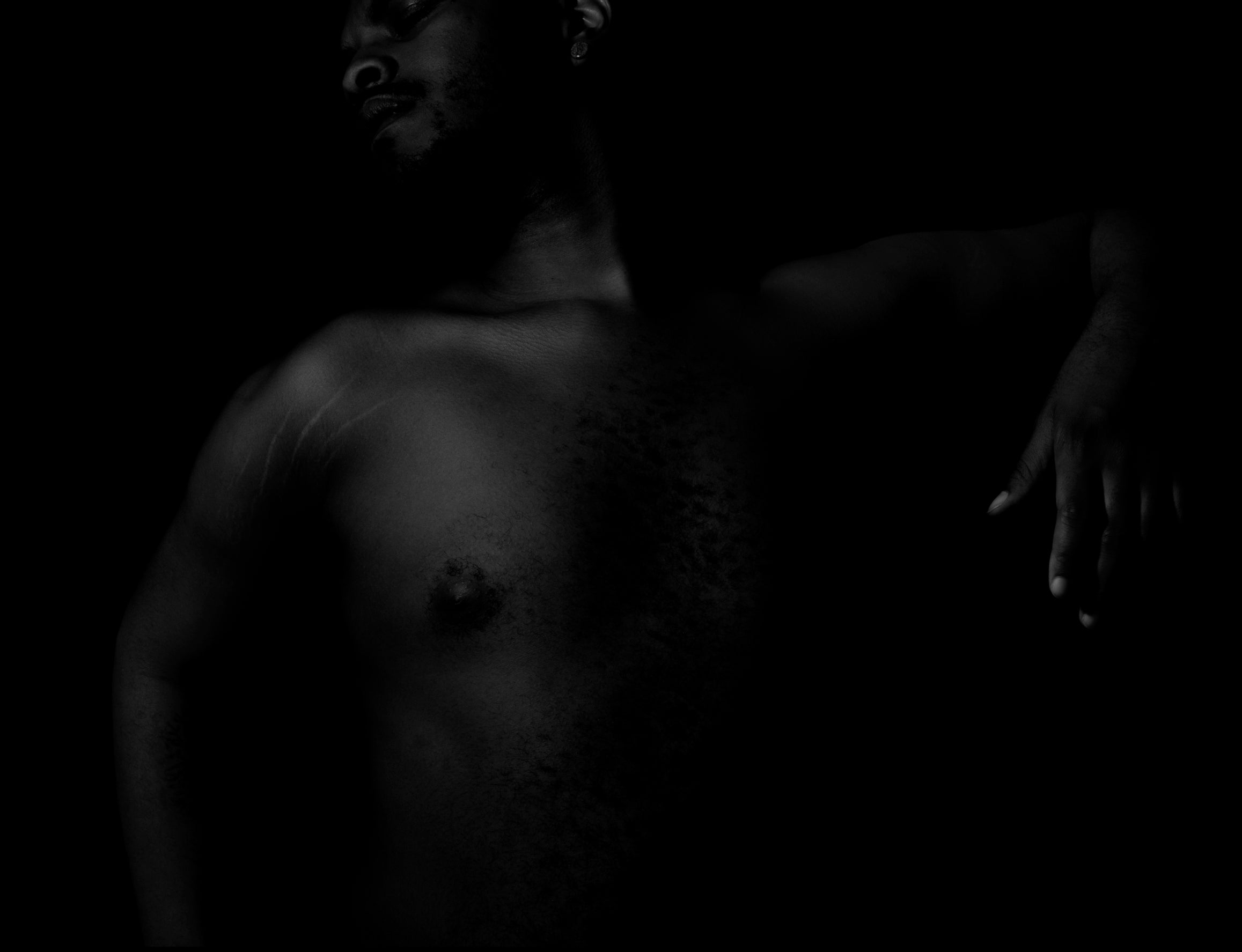 Join us in the gallery for the exhibition Naked and The Nude featuring self-portraits by contemporary photographers Granville Carroll, Tarrah Krajnak and Arno Rafael Minkkinen.
Black Serenity by Granville Carroll prompts the viewer to question what they see by creating a visual space — the body emerges from and recedes into the void of blackness. Carroll forms this void as a space of possibility, exploration and metaphor. The depiction of Blackness that Carroll traverses in his images is at once sensual, vulnerable and moving beyond racial boundaries.
In her series Master Rituals II: Weston's Nudes, Tarrah Krajnak reenacts poses by the models Bertha Wardell and Charis Wilson in images by Edward Weston. In the act of performing both roles in front of her camera, Krajnak asserts her identity by including her face and showing the cable release that establishes her as both subject and artist. The images she made in her studio during the pandemic quarantine take a critical look at the The Nude in photography and challenge the authority of the white male gaze.
Photographs from the last 40 years by Finnish-American photographer Arno Rafael Minkkinen are at times playful, harrowing, breathtaking and peaceful. Minkkinen's contorted human figure toys with perspective and reflections while mimicking clouds, stones, hillsides or trees. Within beautiful landscapes he explores the vision of the camera's eye and the boundaries of the human body.
"We have been so fortunate to have the Solari Foundation Collection on long-term loan to Northlight Gallery since 1991. In celebration of the 30-year relationship with the Solari Foundation, selections from their collection by Robert Mapplethorpe, Andy Warhol, Edward Weston and others will be featured in the show," stated curator Liz Allen. "In addition photographs from the Northlight Gallery Permanent Collection by Barbara DeGenevieve, Tamarra Kaida and Martina Shenal explore the tradition of The Nude in photography and trouble the canon with works that challenge calcified notions of desire, authority, representation and power."
Northlight Gallery, as part of the Herberger Institute for Design and the Arts, hosts exhibitions of artworks in which the content, subject matter or themes may challenge the sensibilities, perceptions and beliefs of some individuals. Please exercise discretion when choosing to view the works and preview for children.
Gallery Hours: Thursday–Saturday, noon to 5 p.m. and first and third Fridays, 6–9 p.m.
Masks are required in the gallery and social distancing will be observed as in compliance with ASU's policy.
Image: © Black Serenity #20 by Granville Carroll
Liz Allen
School of Art
480-965-6517
lizallen@asu.edu
http://art.asu.edu/gallery/northlight
- - - - - - - - - - - - - - -
Northlight Gallery