The Russia Disruption: Russia and America After Trump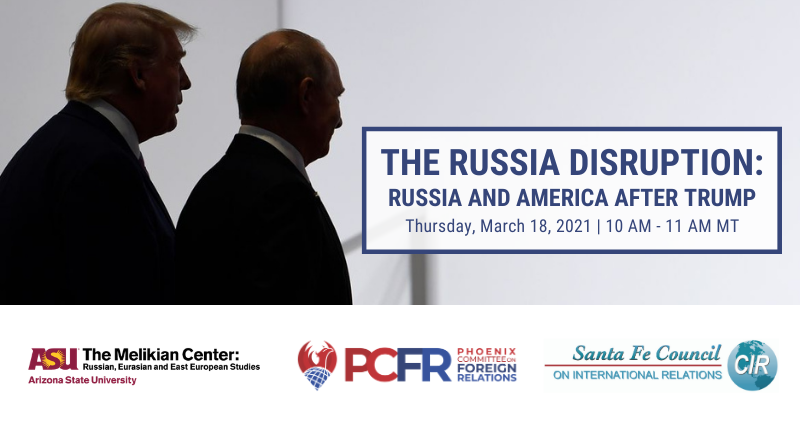 Virtual Event - 9 a.m. MST / 12 p.m. EDT
Join the Santa Fe Council on International Relations, Phoenix Committee on Foreign Relations and the Arizona State University Melikian Center: Russian, Eurasian and East European Studies for the second installment of The Russia Disruption series.  
Russia's challenge to the U.S.-centered world order began before Donald Trump's presidency, with the two nations locked for decades over their interests and values in the changing international system. Russia-U.S. rivalry will continue to prevail — even if the U.S. is prepared to address some issues of mutual importance. Narrowing differences between the two nations will remain difficult until the transition to a new global order is completed.
Register
If you are not a member, then use the code Russia to register as a "Non-Member (with code)."

 *****
Featured Speaker 

Andrei P. Tsygankov
Professor of Political Science and International Relations
San Francisco State University
Andrei Tsygankov is a Russian-born academic and author in the fields of international relations. He is currently a professor at San Francisco State University, where he teaches comparative, Russian and international politics in the Political Science and International Relations departments. Tsygankov has written many books, published extensively in leading academic journals and contributed to Asia Times, Johnson's Russia List, Moscow Times, Korea Herald, Los Angeles Times, Russia Profile, Radio Free Europe/Radio Liberty, Voice of America and other media outlets.
David Brokaw
Melikian Center
480-965-4188
melikiancenter@asu.edu
https://melikian.asu.edu