New Play Festival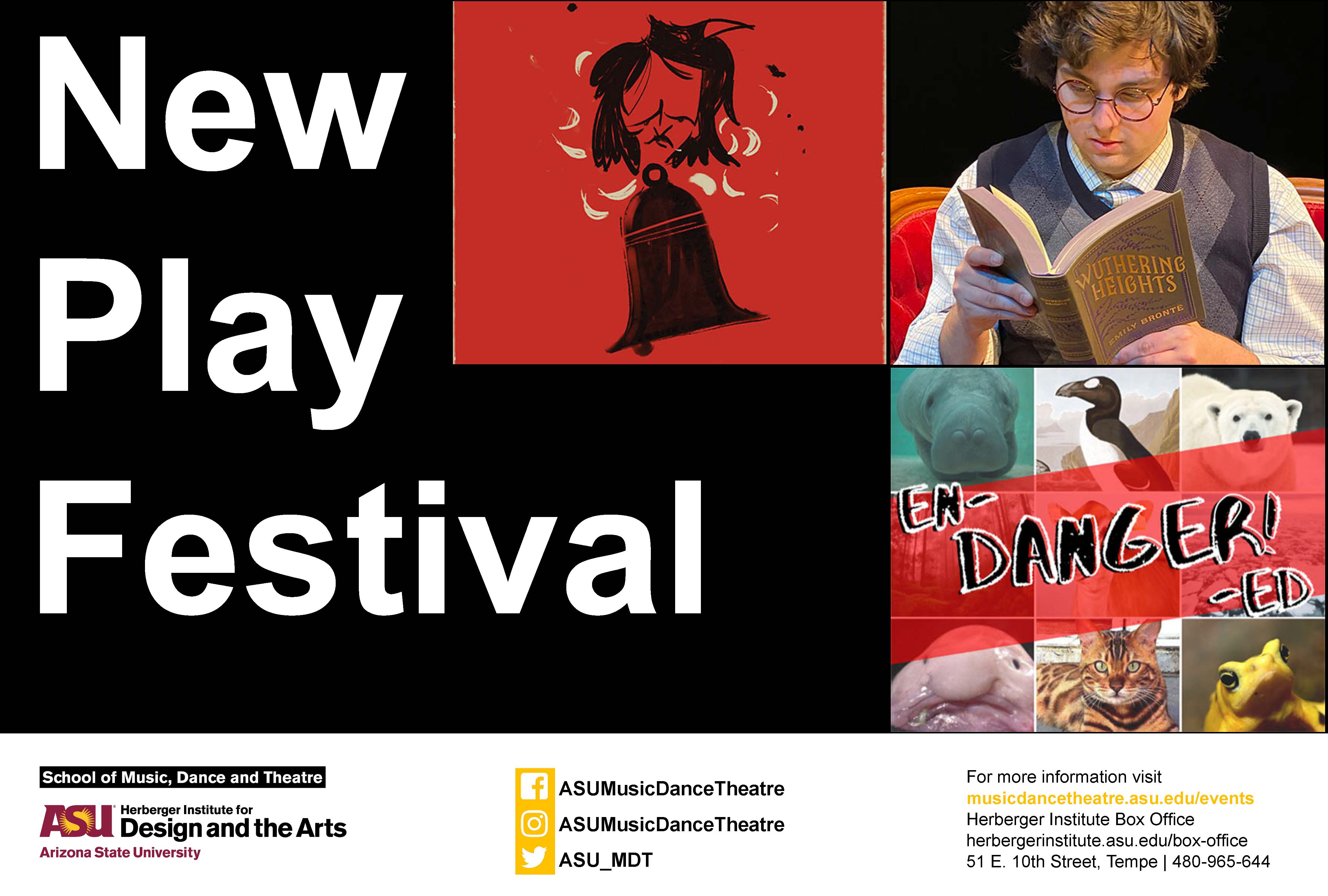 Two weekends of virtual theatre performances written by MFA students.  These three diverse works will tell uniquely different tales, with two presented in workshop-style formates and one as a fully-produced play.  
"en-DANGER!-ed"
Workshop written by A.R. Corwin, directed by Jillian Johnson
Feb. 20 at 7:30 p.m., Feb.. 21 at 2 p.m.
While waiting to enter the hot new dinosaur exhibit, a visitor to the Museum of Natural History stumbles upon the "Hall of Endangered Species." At the push of a button, they're swept into the colorful personal lives of endangered animals who are doing anything and everything to stay alive and stay relevant: Manny the manatee is creating a new public relations campaign, Pole the polar bear is panhandling to tourists, Stack the Panamanian Golden frog is pleading asylum and Blobby the blobfish is, well, dead — but loving it! With all their ingenuity and spunk, will these animals manage to survive?
Warning: This performance contains strong language and themes that may be considered disturbing.
"Light Switch" 
Full Performance written by Dave Osmundsen, directed by Kristina Friedgen
Feb. 26–27 at 7:30 p.m., Feb. 28 at 2 p.m. 
"Light Switch" follows Henry, an autistic gay man with a special interest in 19th century British literature on his quest for love and acceptance.
"Alone" 
Workshop written by Jesse Saywell, directed by Jeff McMahon
March 5 at 7:30 p.m., March 6 at 2 p.m.
It is 1845, and Edgar Allan Poe is at the height of his fame. But with tragedy stalking his every move, Poe's mind spirals into the depths of darkness from which his greatest tales of terror were birthed. "Alone: Edgar Allan Poe's Final Chapter" dives into the life, loves and death of one of history's great storytellers.
William Partlan
School of Music, Dance and Theatre
william.partlan@asu.edu
musicdancetheatre.asu.edu