Professional Development for Educators - STEM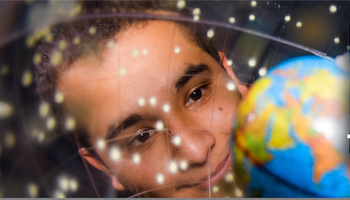 Spend a day at ASU West learning! 
Arizona State University, West 
New College of Interdisciplinary Arts and Science
8:30 a.m. - 5:00 p.m.
Open to teachers of middle and high school 
We are offering two professional development days for middle and high school educators. Our goal is to give you structured professional learning that results in changes in teacher practices and improvements in student learning outcomes. You will work with your fellow teachers to solve problems, share ideas and collaboratively create ideas that will make an impact in your classroom. Certificates are issued to those that complete the full day. This will be documentation for one CEU. 
Day One: Thursday, February 6, 2020 8:30a.m. - 5:00 p.m. 
Middle School: Gear up for robots – build – wire and program!
High School: Dive into cyber fundamentals and tools 
Day Two: Friday, February 7, 2020 8:30a.m. - 5:00 p.m. 
Middle School: Explore STEM basics + cyber fundamentals 
High School: Gear up for robots – build – wire and program!
Middle School & High School: Gear up for robots – build – wire and program! 
Looking for interested teachers who want to learn about robotics. During this professional development, you will build, wire, and program a robot from scratch! No prior experience needed! We provide everything for you, come be a Maker!  

Instructor Jonah Lerner is a current Master's student at the ASU Polytechnic campus. His Master's Thesis is focused on instructing teachers on how to use a low budget, variable-length, Arduino-based robotics unit with a series of professional developments. Every teacher will leave with a kit that can be used during and after the training day.  When not working on his thesis, he is a mentor for an Arizona High School robotics team, FRC Team 2375, Dragon Robotics. Come learn from one who had built and torn apart many a robot!
High School: Dive into cyber fundamentals and tools 
Middle School: Explore STEM basics + cyber fundamentals 
Cybersecurity Fundamentals is a high school level course designed for students interested in cybersecurity careers. The US Cyber Range allows schools to let students explore cybersecurity in a hands-on, first-person setting. Educators can explore the range and will access the content. In this session, you will gain access to free curricula that is both rigorous and relevant. Our instructors will lead you through a number of lessons in the curricula so that you can make immediate and effective use of it upon return to your school. Additionally, everyone goes home with temporary access to an online cyber range so that you may practice the hands-on components of the content in a supportive setting before being using it in your classroom. 
Topics: 
* Intro to Linux - how to navigate the virtual device 
* Network Mapping - Nmap and Zenmap 
* Packet Capture and Analysis - Wireshark 
* Password Auditing - John the Ripper 
* Penetration Testing - Kali Linux with Metasploitable 
Cybersecurity STEMploration  
From learning about digital life, the impact it has, and the threats associated with it, educators will engage with curriculum for young cybersecurity specialists. Discover methods in securing data and avoiding data breaches, the protocols of networking, as well as the basics in finding system vulnerabilities. 
Digital Citizenship 

Threat Prevention 

Cybersecurity Careers 

Encryption and Ciphers 

Physical and Digital Security 
Password Safety 

Firewalls and Protocols 

Ethical Hackings 

Into to Networking 

Vulnerabilities 

Jon Ownby is a Curriculum Development Specialist with the National Integrated Cyber Education Research Center (NICERC). Jon has extensive experience in the K-12 school system with 10 years teaching of experience focusing on science, math, and social studies. Currently, Jon serves on the development and training teams at NICERC where he develops content and trains teachers across the country on STEAM Fundamentals, STEM EDA, micro:bit and Cyber Literacy curricula. 

Chuck is a former high school cyber and technology teacher. He holds an EdD (Educational Leadership) and an MBA (Marketing) from the University of Phoenix and a BS (Marine Transportation) from the United States Merchant Marine Academy. After leaving the maritime industry in 2006 he became a career-changing educator, first teaching algebra and geometry in middle school, then moving to high school, where he first encountered NICERC and wrote content for them. As the director of curriculum, he now oversees a team of content authors and subject matter experts and helps deliver professional development workshops across the country.  

Trista Zobitz manages the Cybersecurity Education Consortium (CEC) at ASU. The goal of the CEC is to expose students in K-12 to the field of cybersecurity to begin to build the cybersecurity workforce of the future.  Additionally, Trista has been a classroom teacher for 15 years in a middle school classroom.  She has experience with curriculum writing and most recently developed a Cybersecurity Curriculum for 6th -8th students that is piloting in several Arizona schools this year.
Carolyn Starr
Carolyn.Starr@asu.edu
-
La Sala - University Center Building